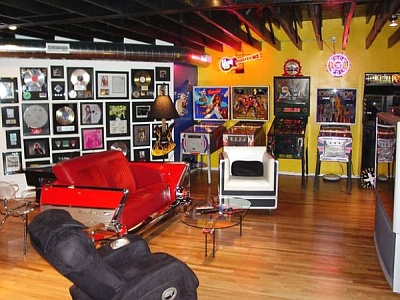 It is well established that guys need an exclusive space to hang out in their homes -- a refuge where they can enjoy what they love, whether it's a soundproofed basement used as a rock 'n' roll lounge and adorned with limited edition guitars; a shed where die-hard motor sports fans can gather with their mates to watch Bathurst surrounded by racing memorabilia while downing a coldie or six; a cricket fanatic's shrine complete with score board and astro-turf or a lush golf-lover's paradise, featuring a state-of-the-art virtual reality driving range, a bar, media centre and top-notch equipment storage space. Thus the MAN CAVE!

A man cave is a male sanctuary, and it can be located anywhere and they can range from a simple garden shed to a purpose built big-budget high-tech gadget heaven. It is an extension of the old games/pool room concept, but it takes it to a whole new level.

The space itself can range from a specially equipped garage, a simple shed, a spare bedroom, a media room, attic or a basement. This is where you kick back and chill with your mates while watching the State of Origin or AFL Grand Final, or where you host your own poker nights or pool tournaments.

Because mancaves.com.au understands there's an environment for every guy that makes him feel fulfilled, we have scoured the world for amazing ideas and fantastic resources for the ultimate Man Caves. We want to offer ideas and expert do-it-yourself instruction to help homeowners everywhere construct their own personal hangouts.
There are absolutely no limits to the designs or themes of man caves and what kind of equipment and gear they can be fitted out with. The only limits are your vision and budget. Man caves can be equipped with accessories such as refrigerators, amusement & vending machines, putting greens, kegerators, giant screens, musical instruments, pool tables, and entertainment centres. Depending on your available space and budget a great man cave should ideally have a vintage pinball machine, an arcade gaming machine, a Wii, Xbox and/or PS2 console, a dart board, a pool table, basketball goal, air hockey or foosball table, comfy seats and of course plenty of cold beer!
A man cave may also be fitted out with a bar and sports memorabilia. Upscale sports-themed furnishings are also available to outfit a man cave. These rooms are often decorated by the male, with little-to-no female influence.

According to leading psychiatrists, it is important for a man to have a place to call his own, referring to a male area to which to retreat. It is clear that a man cave can provide refuge from stressful surroundings and be beneficial to marriage.